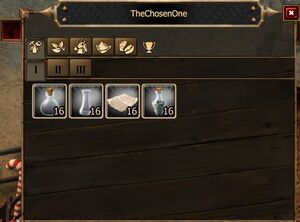 Ingredient Bag is a special bag added in R214 that stores all the special crafting ingredients we have now in game, namely the alchemy ingredients, ores and crafting cores. Since there is an unused 6th page with an event symbol, it will probably be used to store event-related crafting ingredients in the future.
All ingredients inside Ingredient Bag can't be sold or destroyed.
All ingredients inside the Ingredient Bag are classified by type in separate tabs. All Types are classified by rarity under separate sub-tabs.
I - Common Ingredients can be obtained on Painful and Excruciating difficulty
II - Improved Ingredients can be obtained on Fatal to Infernal II difficulty
III - Magic Ingredients can be obtained on Infernal III difficulty and higher
These Ingredients can be obtained in all Scaling Normal Dungeons (including Crafting Quests).
Implements can be get randomly via Crafting Quests or can be bought from Crafting Masters' shop.
Crafting Cores can be obtained form Event Bosses, Parallel World Bosses and Crafting Masters.
Community content is available under
CC-BY-SA
unless otherwise noted.