List of Available Effects
Edit
Enabling Equipment Effects
Edit
You have to enable the Equipment Effects by using right amount of
Creatress' Tears on the item. The amount of needed
Creatress' Tears is stated in the item's tooltip.
Collect enough
Creatress' Tears, right click on them and use them on desired item.
If you want to remove already applied effect on item you can buy
Equipment Effect Remover from the shop. The price per remover is

19.
Enabling the Effects in Settings
Edit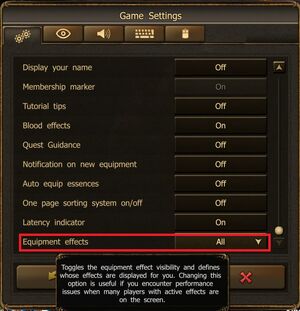 You can open the "Game Settings" menu and turn them off/on. For now you can't turn them completely off.
You can enable Effects:
- only on your items (you can't see other players' effects).
- on your items and people in your group.
- everyone's effects ( Enabling this option may slow down your system).

Behaviour with Core Crafting
Edit
Equipment effects are generally treated like enchantments by any Core Crafting methods.
Community content is available under
CC-BY-SA
unless otherwise noted.