22 January 2021 - 01 February 2021
Changes in this iteration
Shop
Thabo's Shop
Shady Jon's / Sir Kendrick's Shop
Intro
It´s rumored that the arch enemies of Dracania are undefeatable. But that´s just because they´ve never met you! Queen Antonia has called for a competition – whoever defeats the most terrifying monsters will become one of the immortal heroes of Duria. Are you up to the challenge?
Defeat (level-appropriate) bosses and turn in quest drops to earn Insignia. Event quest givers can be found Kingshill. Exchange

Realm Fragment for
Realm Path to Circus Monstrorum.
Purchase travel rations to teleport directly to your desired boss location.
Finish the introduction quest to get started. You will need x10

Realm Fragment for Defeat the Undefeatable! Quest.
Warning: Beware of the thieves!!! Queen Antonia is stealing the realm fragments from you. Even if she only says "show them to me i am not going to take them" she is taking them anyway, so you will need to spend twice.
After finishing the quest you will need x10

Realm Fragment for
Realm Path to Circus Monstrorum.

There are seven difficulties and the entry requirements are:
Same requirements apply for direct ports (Realm Path to "some place").


Upps! Entrance from the old game! :)
Progress
Collect
Insignia of Honor on any difficulty and fill the progress bars.
Progress bars are tiered and level dependent.
Level 100 progress bars are Achievement points dependent.

These requirements are old and are only included here only as a comparison, since we don't know the new ones.
Progress bar tier requirements:
Tier 1 - Level 20-34
Tier 2 - Level 35-44
Tier 3 - Level 45-54
Tier 4 - Level 55
Tier 5 - Level 55 + 5000 Achievement Points
Tier 6 - Level 55 + 7000 Achievement Points
Insignia of Honor Drop List
Drop stacks on
Insignia of Honor scale with the difficulty.
The higher the difficulty the higher the drop of
Insignia of Honor is.
See the drop list below.
Bosses
Once you enter the Circus Monstrorum you need to click on the first Shrine and summon the first Boss. You can only summon one Boss at a time and you need to kill the current Boss so you can summon the next one.
There are nine Bosses. Only one boss spawns per Shrine:

The order of summoning is: (Heredur / Bloodmage) --> (Arachna / Magotina / Karabossa) --> (Bearach / Asar) --> (M'Edusa / Nefertari).
After killing all four of them, portal to a random boss room will open on the edge of the map.

This portal will lead you to one of the following bosses: Khalys, Herald of the Anderworld, Sigrismarr Frostclaw, Gorga, Destructor, Balor, Djinn, Grimmag, Dragan and Gwenfara.
Mortis has been kicked out because he was critical of all the game changes, and we all know those who don't agree with the changes are traitors and are not welcome at the private party.
All bosses are being randomly selected according to the player's level.
(note) All bosses scale to the player's average level.
All Bosses can drop their own Pet Part - Body:
These parts can be used in the process of Pet Crafting.
M2 (through portal)
Boss' selection, requirements and key drop
Bosses are level dependent, you can get only bosses available to your level.
The drop of

Key of Defeat is random and difficulty dependent. That means depending on your "luck" and the difficulty you can get from 0 to 3 keys.

Chests
After killing the Boss on the second map (boss room) chests will appear at the start of the map, near the entrance (Yolotl is exception, you can find the chests on the left side of the map). You can open the chests by using the

Key of Defeat.
The amount of chests that can spawn is scaling with difficulty:
Normal - Excruciating = 2
Fatal = 3
Infernal and Merciless = 4
Bloodshed = 5
Note: "can spawn" doesn't mean "will spawn".
There are three types of chests: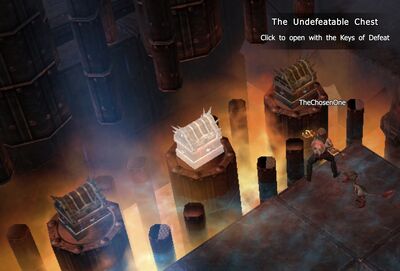 You need one

Key of Defeat to open this type of chest.The rewards inside the chest are random.
Possible Rewards:
This Golden Chest will not always spawn. The higher the difficulty, the higher the chance for spawning is. You will need x10

Key of Defeat to open one Golden Chest.
Possible Rewards:
Chests of the Fearless
In this event version Wooden Chest of the Fearless has been removed.

One specific type of chest can be found on specific difficulty.
There are always 4 chests of one type in Circus Monstrorum, depending on difficulty. You can always open all 4 chests of a same type no matter when as long as you are on the right difficulty.
Since there are 3 types of chests, the maximum number of chests you can open is 12 (only if you buy the keys from the shop since the keys can be only obtained from progress - not dropping anymore).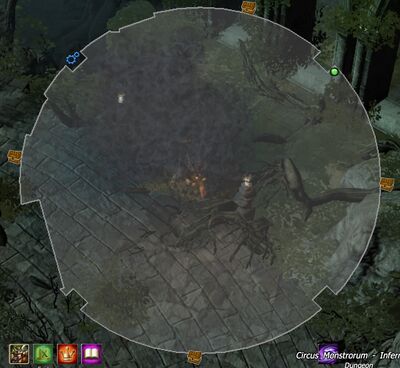 Possible Rewards:

Loot Sample

After defeating the Boss on M2 you can access one of these Secret Lairs (<-- see the full list):
You need to have one

Secret Lairs' Offering in order to access the Lair.
These Secret Lairs are Event (smaller) version with fewer platforms. That means you will always be stopped by the Force Shield at some point.
However ... these Lairs accessed from Circus Monstrorum (when the event is active) are having one extra shrine. You can always summon Random Circus Monstrorum Boss. These bosses are having usual drop, except, they are always dropping

Gilded Clover and
Insignia of Honor (the amount is difficulty dependent - see the list above).

You can also get

Gilded Clover from the Chest of the Lairs when you completely clear the dungeon.
When playing on any Infernal difficulty and above, there is a chance to get Runes from monsters.

Pet Crafting
Combine One of the body parts with:
at the Workbench, in order to craft a Pet.

Note: Starting with this event version Flame of Phoenix can only drop on difficulty infernal and above.
Because we all know it make sense to game makers, new players are not welcomed in the game and the old one need to leave ASAP.
Pets - Boss Dolls

Wishing Star Pet Crafting
Players who already have

Wishing Star can use it to substitute one body part when crafting doll pets.
Quests
Note: Queen Antonia is stealing the realm fragments from you. Even if she only says "show them to me i am not going to take them" she is taking them anyway, so you will need to spend twice.