Bearach
Basic Info
Location
Hunting Call Clearing
Level
25
Difficulty

Normal


Painful
Excruciating
Fatal
Skills
Blade Dance, Swarm of Bees, Strike, Swing
Drops
Bearach of Untamed Scorn
Bearach Tormentor
Bearach Torturer
Bearach Storm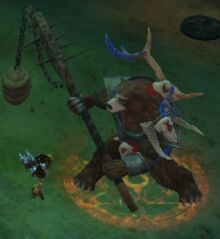 Venture through the natural forest of Eternal Grove until you reach the end of the path. Here you will face Bearach, the Champion and protector of the Goddess of the Hunt. Upon slaying, Bearach may drop a level 25, unique, 2-handed weapon.
Blade Dance - jump towards a player, stunning for 2 seconds if hit
Swarm of Bees - after swinging his weapon around he unleashes a swarm of bees, which follows a player for several seconds; deals high damage and slows player for 4 seconds if hit
Strike - melee strike at a single player
Swing - melee swing hits multiple players in close range
Unique Drops 
Edit
Discontinued!

Level 25 weapons randomly dropped
Community content is available under
CC-BY-SA
unless otherwise noted.